Acapulco is an excellent place to go on vacation. During the 50s and 60s, the resort industry became the center of attraction to the city and now, it is a must-see in Mexico.
Luxury, fun, and extravagance formed a fundamental part of the city's history, thus creating an idea of ​​the best places to visit in Acapulco.
Acapulco has become the Jewel of the Pacific.
A jewel that offers nightlife, sports, sun, sand, gastronomy, and countless places to visit and create beautiful memories of the Mexican Pacific.

What can you do in the best places to visit in Acapulco?
Among the many things to do in Acapulco, sports is one of the unmissable activities.
Whether you go as a couple, with family, with friends, or alone; the best places in Acapulco offer you a variety of sports activities.
These range from golf (very popular in Acapulco) to surfing, bowling, diving, fishing, beach volleyball, and windsurfing, among many others. If you like sports, visiting Acapulco will be an unforgettable and invaluable experience.
Furthermore, if you enjoy watching sports more than you like doing it, then you have the Acapulco Tennis Open (it takes place once a year), boxing matches, and surfing competitions.
In addition to ecotourism and many other extreme sports.
There is no doubt that the best places to visit in Acapulco are the perfect option to leave behind the stress of everyday life, the burden of daily responsibilities, and the hustle and bustle of work. 
To visit Acapulco is to enter a world of calm dreams.
Additionally, if you'd like to plan a family trip, don't worry, Acapulco has many options for you, such as rides on jetskis, and banana boats.
Most importantly, you can enjoy the simple things, such as having a day under the sun, walking on the sand, and visiting the most beautiful beaches Mexico has to offer.
Another of the best places to visit are the water parks for the little ones, as well as Papagayo Park.
And of course, you cannot leave out a visit to the shops, malls, and restaurants.
There are many options such as spas, hotels with first-class services, and streets with the magic of the Pacific.
The beach atmosphere makes you want to continue delving into the best places to visit in Acapulco.
Everything in Acapulco invites you to enjoy, have fun, and gather unforgettable memories.
¡¿Qué esperas para descubrir los mejores sitios para visitar en Acapulco?!
Disfrutalos juntos a Enjoy Your Travel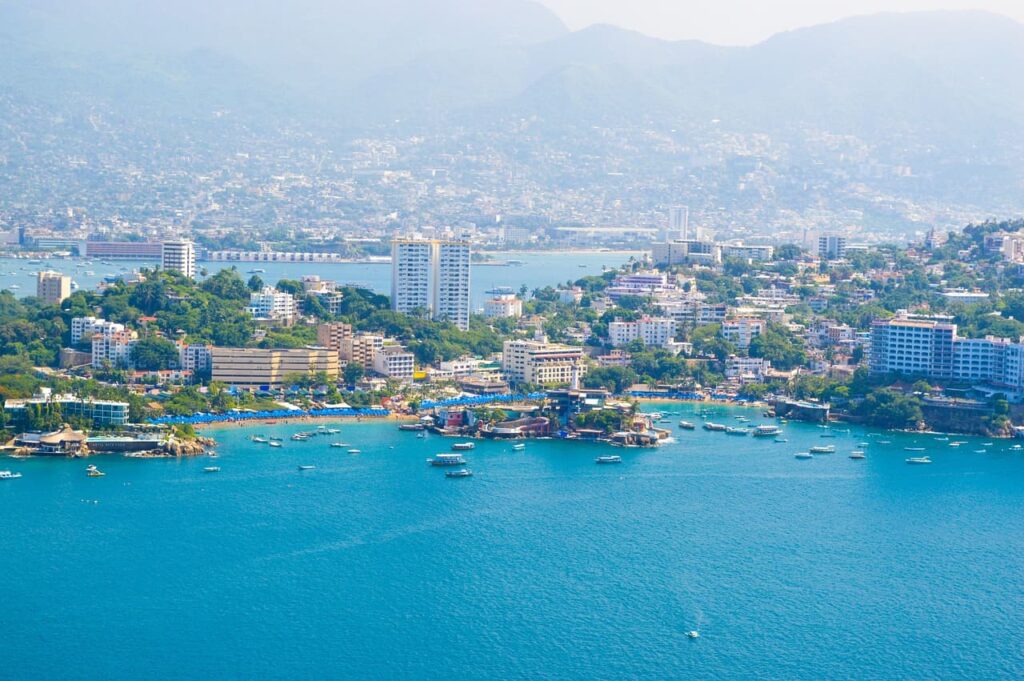 Five of the best places to visit in Acapulco
If you plan to go to Acapulco or you are already here, but you do not know which are the best places to visit, here are five of the best options for you, which mean, they must be part of your travel plan:
La Quebrada
One of the best places to visit in Acapulco, without a doubt, is La Quebrada, or "the Waterfall", which is not only known for its beauty but also its history. It is one of the iconic sites of Acapulco.
Here you can witness diving up to 35 meters high, directly into the depths of the Pacific Ocean.
Music, dance, and drinks
Nights in Acapulco nights are magical, so, among the best places to visit are the nightclubs. They are a must!
One of the most classic clubs in Acapulco is the Baby O Acapulco. If you are one of those who go to sleep early this is not for you.
But if you want to have a good time from 11 at night until 7 in the morning, the BaBy O is the place for you!
It is located on Avenida Costera Alemán 22 Costa Azul.
On the other hand, you have Paradise Acapulco. It is located on Costera Miguel Alemán 101. It is famous for being next to the Bungy. If you go in they will give you a discount.
You can use that money for more drinks at the open bar!
Here are a few other nightclubs in the region: Hannah Sun Club ( Corbeta Street 65), Palladium (Escénica street), Love (Escénica street 2- B), Believe (Escénica street 22, Las Brisas), among others.
Beach, sun, and sand in Acapulco
Of course, you cannot talk about the best places to visit and not go to its beautiful beaches.
It is somewhat difficult to talk about one or two, so we will review those that have managed to captivate their visitors the most.
The first ones are Caleta and Caletilla beach, we can find them in this beautiful traditional city, known for its peaceful and crystalline waters.
Then there is Puerto Marques beach, located right next to traditional Acapulco. Here you can venture on the Xtasea zip line, the largest in the world. This beach is known for water skiing, diving, and jet skiing.
In Pie de la Cuesta you can enjoy the best sunsets from the comfort of a hammock. Located north of the city, it is excellent for those who enjoy strong waves.
Another excellent beach for surfing is Playa Diamante, it is also home to one of the best hotels in the world: Mundo Imperial Pierre Marqués. Come here if you enjoy playing golf, or if you want to enjoy a luxurious experience.
In conclusion, the best places to visit are the beaches, without a shadow of a doubt, you must visit at least one of them.

El Rollo
If you come to Acapulco to create memories full of laughter, jokes, and perhaps the occasional scare (but a good one), visiting this water park is a must. 
Among the activities offered by El Rollo are the following: slides, waves, they abbys, children's area, dolphins, and sky coaster. Lots of fun guaranteed. I mean, who doesn't like dolphins?
For this reason, it is considered one of the best places to visit in Acapulco.
Yacht Acarey
Considered the most famous ship in the city, touring the bay on the Acarey Yacht is one of the best experiences you can take from the resort.
There are many places that the city can offer, but only a few enter the best places to visit on vacation.
You just have to keep in mind what you want and everything else will come from there.
Más artículos que te pueden interesar: