Visiting Cancun is a unique and wonderful experience and here we will provide you with the information you need to know the best time to travel to Cancun.
Cancun is one of the most popular tourist destinations in Mexico, thanks to its beautiful beaches, exciting nightlife, and rich culture. However, do you know when is the best time to visit the city?
In this article, I will tell you everything you need to know about the best time to travel to Cancun. I'll also give you some tips to make the most of your trip.
Cancun has a tropical climate, with warm and sunny temperatures throughout the year.
The average temperature is 28 degrees Celsius. The rainy season runs from May to October, but the rains are not intense or prolonged.
Check the weather information and you will know which is the best time to travel to Cancun and enjoy your vacations to the fullest.
Best time to travel to Cancun
The best time to travel to Cancun is during the dry season, which runs from November to April.
During this time, the weather is warm and sunny, with little rain. In addition, there are fewer people, which will allow you to enjoy the beaches and other tourist attractions with greater peace of mind.
You can consult with your trusted travel agency, check the flights and costs and find out what is the best time to travel to Cancun.
Leave the planning of your adventure in the hands of the experts, most travel agents know what is the best time to travel to Cancun and what are the best tours, accommodation and recreation places to go.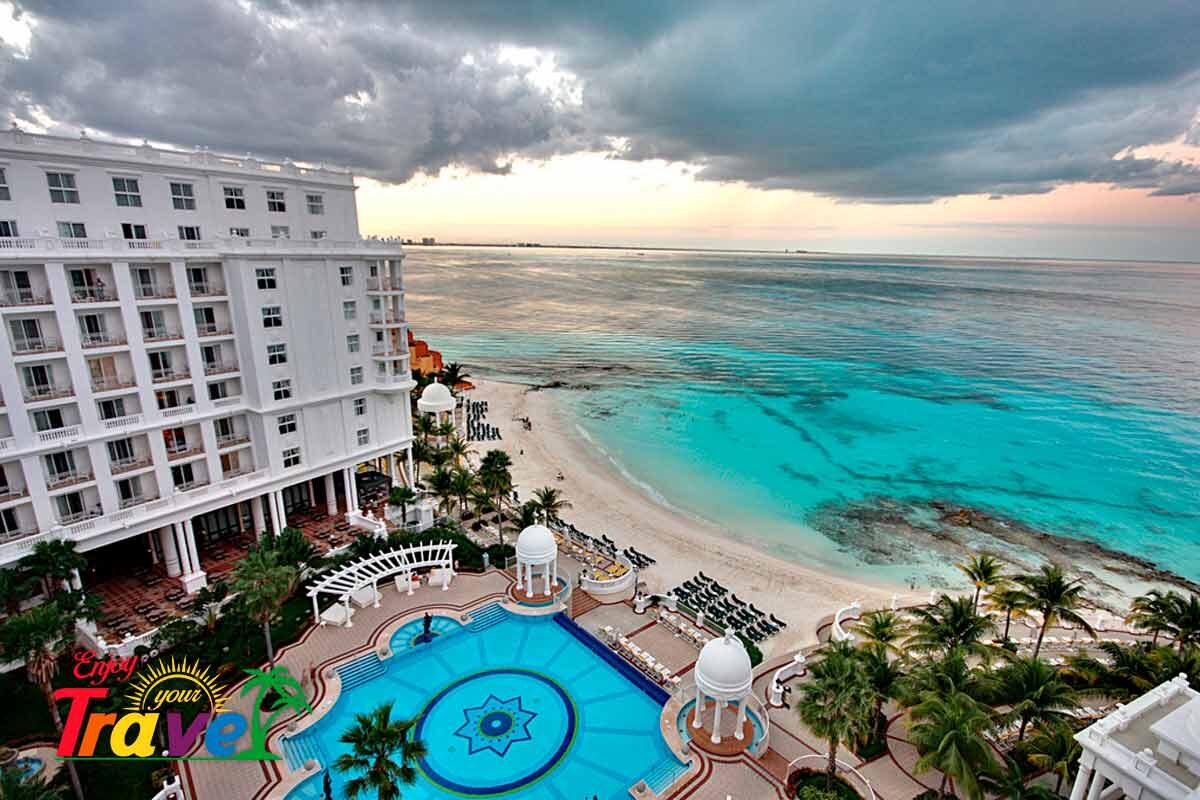 Cancun offers a wide variety of activities for all tastes. Here are some of the most popular:
Rest on the beaches: Cancun is known for its beautiful beaches, such as Norte Beach, Marlín Beach and Chac Mool Beach. Can you imagine being able to relax on the soft white sand, while enjoying the warm sea breeze?
Norte Beach is one of the most popular beaches in Cancun. Its fine white sand is perfect for relaxing and sunbathing.
The beach also has a wide variety of restaurants and bars, so you can enjoy a delicious meal or a refreshing drink.
Marlín Beach is another popular beach in Cancun. It is a little quieter than North Beach, so it is ideal for families with children.
The beach has a children's play area and a water sports area.
Chac Mool Beach is one of the most exclusive beaches in Cancun. It is located in an area surrounded by luxury resorts and hotels.
The beach is perfect for those looking for a calmer and more relaxed atmosphere.
Enjoy the nightlife: Cancun has an exciting nightlife, with clubs, bars and discos that offer live music, dancing and fun. Are ready to dance the whole night?
Cancun, like Acapulco, is known for its nightlife. There are clubs for all tastes, from electronic music to salsa and cumbia.
In the best time to travel to Cancún know some of the best places
Some of the most popular clubs in Cancun include:
Coco Bongo – a beach club offering live music and DJs

Mandala: a nightclub with a rooftop pool

The City: a nightclub with an urban atmosphere

Visit historical sites: Cancun has a rich history, which can be seen in places such as the Mayan Museum, Xcaret Park and Isla Mujeres. Would you like to learn about the history and culture of Cancun?
The Mayan Museum is a museum that houses a collection of Mayan artifacts. The museum is located in the center of Cancun.
Xcaret Park is a theme park that offers a variety of attractions, such as cenotes, underground rivers, and cultural shows.
The park is located in the Riviera Maya, near Cancun.
This is one of the most popular places and most visited by tourists, but quiet! Here you can find out in detail what is the best time to travel to Cancun and all its places of interest.
Isla Mujeres is an island located off the coast of Cancun. The island is known for its beaches, Mayan ruins and relaxed atmosphere.
Do water activities: Cancun offers a variety of water activities, such as swimming, diving, snorkeling, sailing and fishing. Would you like to explore the beautiful seabed of Cancun?
Cancun is an ideal destination for lovers of water sports.
The crystal clear waters of the Caribbean are perfect for diving and snorkeling. There are also several companies that offer boating and fishing tours.
You already know the activities and the most attractive tourist sites, you just need to book your trip because it does not matter what is the best time to travel to Cancun, what is important is the trip and the adventure.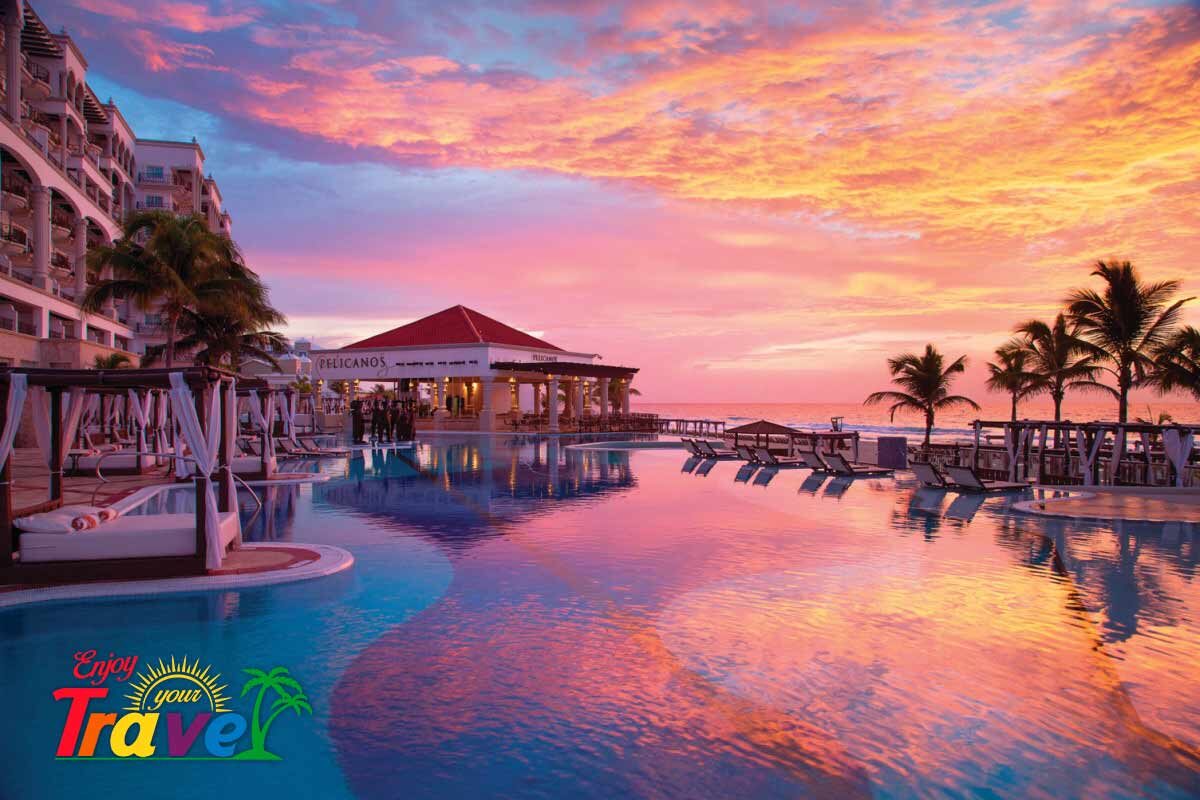 Tips for traveling to Cancun
Here are some tips to help you plan your trip to Cancun:
Book your trip in advance, especially if you are traveling during peak season. This way, you can ensure you get the best prices and the best accommodation options.

Wear comfortable, light clothing suitable for the tropical climate. Don't forget to bring a hat and sunglasses to protect yourself from the sun.

Protect yourself from the sun with sunscreen, a hat, and sunglasses. The sun in Cancun can be very strong, so it is important to protect your skin.

Bring insect repellent. Mosquitoes are common in Cancun, so it is important to bring repellent to avoid bites.
Now that you know the best time to travel to Cancun, what are you waiting for to live the adventure of your life?