Party nights: The 5 best clubs in Cancun. The Mexican Caribbean is known more than for its beaches with turquoise waters and white sand. Because the nights are crowned by the discos in Cancun, where enjoyment, fun and rhythm are guaranteed.The best and most diverse clubs in Cancun can be found among the hotel zone, especially in Punta Cancun, like a staircase in which each new nightclub brings more joy to the night. You just have to know where to go, have a good plan for excessive enjoyment, and want to dance until your feet can't hold you anymore. Because clubbing in Cancun is like going to a fairy ball: you'll be so ecstatic that you won't notice the sun until it's on you. Stay and discover the 5 best nightclubs in Cancun, those that have guaranteed fun, as well as nights you can never forget, not even under the influence of alcoholic beverages.
1. A Show from all angles: Coco Bongo one of the most popular nightclubs in Cancun
Coco Bongo may be, without fear of being wrong, the most famous nightclub in Cancun and even in Mexico. It is a must stop in the Riviera Maya for those who love the magic of the Caribbean night.
From dance shows, with huge screens, lights of different colors and intensities, tributes to great singers and movie stars, open bar and ‹‹golden passes››, and a little more.

This Cancun nightclub is like having access to Cirque de Soleil, only for adults, and for those who love parties, drinks, and long hours of moving their bodies to the sound of music and pure tropical fun.
The nightclub experience is divided into three phases: Open bar ticket; You will have access to national drinks for five hours.
As a gold member, you'll get an open bar from 10:30pm to 4:00am, plus a "fast pass" to get in (being the envy of everyone).
And finally, the golden ticket: You will be able to enter the disco without queuing, as well as having access to a Premium bar and the best seats in the place to enjoy the show.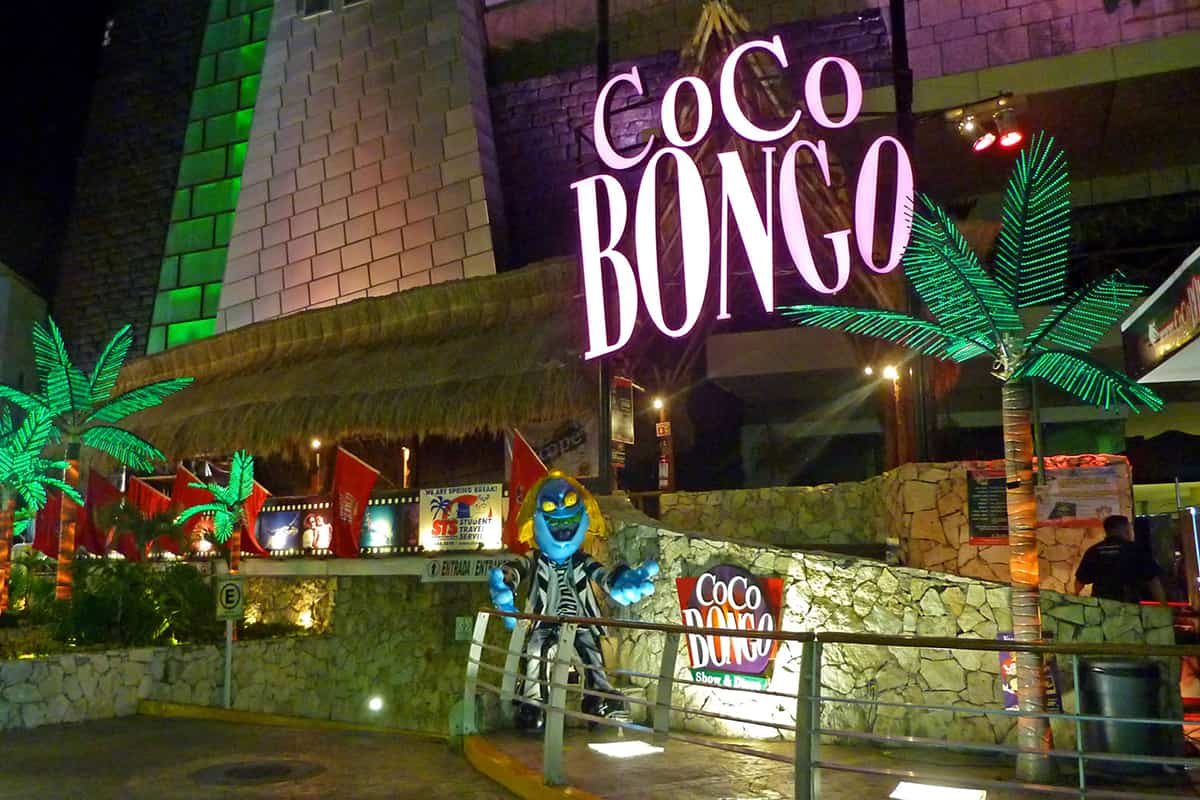 2. An exotic and free environment: Mandala
If you have already discovered the wonders of Coco Bongo, but do not want to go that far from the best nightclub in Cancun, then you have an option in its neighbor: Mandala.
With its oriental atmosphere and its façade open to the street, this nightclub has managed to win over the party crowd in Cancun in recent years.
Loaded with ‹‹House›› music, bold colours, bright displays and food… yes, food. Because for some time, the disco has offered an excellent food service.
If hunger strikes during the night, you don't have to leave Mandala.
So, if you like everything that has to do with Hindu culture, you don't like being locked up between four walls and you are one of those who eat while you live a night of debauchery… this nightclub in Cancun is undoubtedly for you.
3. Electronic music and elegance: Palazzo one of the most exclusive nightclubs in Cancun
This nightclub has been opening its doors in Cancun for some time. It has changed its name a couple of times, but that hasn't diminished its service, let alone affected its popularity among nightlife lovers.
The elegant atmosphere and the ‹‹feeling of exclusivity››, has turned Palazzo into one of the must-see nightclubs in Cancun.

It is only open two nights a week: Wednesdays and Saturdays. So don't forget to schedule it in your plans, while you are in Cancun.
One of the great attractions of Palazzo are its theme nights, where you can enjoy a neon show —dancers that glow in the dark, to the rhythm of the best music—; and if you prefer something darker and more sensual, you also have the ‹‹Red District Night››.
Another plus of this nightclub in Punta Cancun are the regular stripper and pole contests that it organizes. More than music and lights.
4. A giant among giants: The City, one of the largest clubs in Cancun
Located in the hotel zone of Cancun, this nightclub is considered one of the largest in Latin America. It has capacity for nothing more and nothing less than 5,000 people.
Its greatest attraction? In addition to the music, the drinks and the party atmosphere; are the presentations of artists such as Steve Aoki, Flo Rida, Snoop Dog and Diplo. Do you think you can miss one of these nights in Cancun?
Something to consider when exploring the wonders that this Cancun nightclub offers is that it only opens its enormous doors, on three levels, on Fridays.
So you should plan in advance the foray into their world of nightlife.
5. Liters and liters of drinks: La Vaquita
There is no way to get lost on the way to La Vaquita, because it is located right in front of the big clubs in Cancun. Of course, that it is small does not make it less fun.
You won't have a lean night here, far from it, because the drinks from the open bar come to you in satisfying one-litre glasses.
Don't let the peculiar rustic decoration confuse you, because in this club you will be able to listen to the best of the hip-hop and reggaeton; to discover a night of music, dance and freedom.
Like many other clubs in Cancun, at La Vaquita you will find themed party nights. So don't miss the opportunity to take a tour of this picturesque nightclub.
In Cancun, without a doubt, you will be able to live unique and unforgettable experiences, where the senses will be the main protagonists. But do not forget something: You must organize and plan. You must know your tastes and budget.
Once you have all this in mind… What are you waiting for to visit the clubs in Cancun?!